14 Frequently Asked Questions About Phuket
1.When is the best time to visit Phuket?
Phuket has 3 distinct seasons :
a) From November to March it's the(slightly),cooler dry season,this is what is called the High Season.This is when Phuket gets it's best weather and a lot of visitors from the western hemisphere come to escape from their winter.This is the busiest time of the year for Phuket and prices are higher.
b) From the middle of March until May it's the hot season.This is when it becomes uncomfortably hot and the tourist numbers start falling,as do the prices.
c) From May until and sometimes including October it's the rainy season or as it's widely called "the low season".May and September are usually the rainiest months and in between these 2 months it usually doesn't rain that much,just a few showers a day,seldom do you get a whole day of rain.Be very careful with swimming in the sea on the west coast,at this time of the year there are big waves and very strong rip currents there,only swim in the designated areas.
2.How do I get to Phuket?
To travel to Phuket there are several transportation options depending on if you are in Thailand already or not.Here are some common ways to get to Phuket.
a) By air : Phuket has a big international airport.Major cities all over the world have flights to Phuket,many are with a stopover in Bangkok but there are also many direct flights to Phuket.Once you arrive in Phuket you can take a taxi or the really great smart bus.
b) By bus :  Phuket is well connected by bus services to cities all over the country.From Bangkok the travel time is between 12 and 14 hours.The buses in general are quite comfortable and there is also the VIP bus which is more comfortable.
c) By train and bus : there is no direct train line between Bangkok and Phuket so you would have to take the train to Surat Thani and from there a bus or van to Phuket.
d) By car : Thailand's road network is good and Phuket is connected to the mainland by a bridge.The drive from Bangkok to Phuket takes between 10 and 12 hours.
e) By boat : if you are on the west coast in the south of Thailand then from locations like koh Lipe,Krabi and other places there are ferries and speedboats that go to Phuket.
3.What are the most popular attractions in Phuket?
a) Phang Nga Bay : situated on the mainland close to Phuket island,this bay is famous for it's very tall
limestone formations rising out of the sea.It was made famous by the James Bond movie – "the man with the golden gun".Besides boat tours there are also canoeing tours in which you go into spectacular caves and hidden lagoons.
b) The Old Phuket Town : this is part of Phuket town that belongs to a bygone era,one street there is even on the top 20 list of the nicest streets in the world.Wander through the narrow lanes where you can explore the historic Sino Portuguese architecture,or visit the local shops and try out some of the delicious local food.There is also a museum and the historic old governor's mansion.Every sunday a large area becomes a walking street and has the well known "sunday market",a great place to find unique products and sample lots of different types of Thai street food.You can also find a lot of vegetarian food here.
c) Patong Beach : this beach is located on the west coast and is Phuket's most famous beach.Here you can find a wide range of things to do,there are many watersports activities,beachfront restaurants,shopping centers,bowling,cinemas,a very lively nightlife scene etc etc.It's all super touristic and developed so if you are not into that…..,but if you like convenience and the hustle and bustle then Patong is the place for you.
d) Big Buddha : located on top of one of the highest hills of Phuket this Buddha stands at 45 meters tall.From on top of this hill there are some great panoramic views of the island.It is a revered religious site which includes a temple.
e) Wat Chalong : The biggest and most important Buddhist temple in Phuket,it is a beautiful complex which consists of pagodas,statues and shrines.You can learn about buddhism and admire the beautiful architecture.
f) Prom Thep Cape : situated right at the bottom of Phuket island,this cape offers views of the Andaman sea and some of it's islands.It's a popular place to go to watch a sunset.
g) The Similan Islands : a fantastic place for diving and snorkelling,this is a protected national park with abundant marine life.
h) Cooking Classes : Join one of Phuket's cooking classes to learn about Phuket's rich culinary
heritage.Cooking Thai food is not only fun but you also get to take home a delicious and nutritious lifelong souvenir from Thailand which you can share with your family and friends.
i) A Trip to the Phi Phi Islands : These were once some of the most beautiful islands in the world but are now overcrowded.The scenery with the beautiful beaches and huge towering cliffs is still very nice.There is a viewpoint from which you can admire everything.There is also a big all night beach party scene. 
4.Which are the best beaches in Phuket?
a) Nai Harn beach : this is on the southern tip of Phuket island and is one of the nicest beaches,behind it are a temple and a lake so no development has been possible there,this has saved the area from being developed too much.
b) Kata beach : this is another nice beach but gets quite crowded in the high season,there are many hotels in this area.In the low season,(from May to October), it's one of the best beaches for surfing and there are a bunch of surfing schools then.
c) Karon beach : this is next to Kata beach,it's the second largest beach in Phuket and because of it's size you can always find a quiet spot there somewhere.In some places along this beach there is a good selection of restaurants,accomodation and nightlife.
d) Patong beach : the busiest beach in Phuket with the most things to do,if you are looking for a quiet beach then you are in the wrong place.
e) Surin beach : situated on the north west coast this area is more upscale with some very expensive resorts,villas,beach clubs and fine dining along it's coast.
f) Nai Yang beach : this is up by the airport,it's one of Phuket's more quiet beaches and it's located in a national park.
Between Surin beach and Nai Yang beach you can find some very nice less crowded beaches, like for example the lovely Layan bay and Nai thon beaches and there are several other ones in between,follow the coast road and you will see them. 
5.Is it safe to swim in the waters around Phuket?
In the high season,(from mid October to April),the sea is very calm everywhere and it is safe for swimming.Be aware though that in deeper water,especially around the islands,even on calm days,there are very strong currents.

In the low season,(from mid April to mid October),the sea on the west coast beaches is often very rough and there are big waves plus very strong rip currents,swim only in the designated areas. The east coast and Phanga bay are sheltered and thus calm.

There have very seldom been serious incidents with jelly fish or other marine creatures,there are no dangerous sharks in Phuket.
 6.What are the available accommodation options in Phuket?
Phuket offers a very wide range of accommodation to suit just about every need, preference and budget.
a) Hotels and Resorts : there's a huge choice of hotels and resorts,ranging from budget to super luxury and everything in between.
b) Villas and Vacation Rentals : for those wishing for more privacy and space, there are villas and vacation rentals all over the island.They often come with private pools and offer a home like atmosphere.Popular areas are – Rawai,Chalong and Kamala.
c) Guesthouses and Hostels : There are not as many as before but they are still around.This is a more social experience and you get good value for your money.
d) Boutique Hotels : there are not so many in Phuket but they are definitely present.
IMPORTANT
Be sure to do your homework well before choosing an area to stay at as one area can be very different from the other.For example if you have a family then you might not want to stay in a place full of raunchy nightlife like Patong. Other areas might be too remote,ie too far away from everything,especially if you don't have your own transportation,taxis are expensive in Phuket. 
7.Are there any customs or etiquettes that I should be aware of?
Here are some of the most important ones : 
a) Wai greeting : this is the traditional way of greeting,you place your palms together in a prayer- like position and position them against your chest while slightly bowing your head.This is the respectful gesture used when greeting older people or individuals of higher social status. 
b) Removing shoes : it is important that when you enter a home,a temple or certain businesses that you remove your shoes.
c) Dress appropriately : when visiting temples or sacred sites cover your shoulders,chest and knees.In general Thai people are very much into appearances and they will have a lot more respect for you if you dress appropriately,wherever you may be.It can especially work in your favour in places like an immigration office or a police station.
d) Politeness and smiling : A smile will get you a long way in Thailand,if for example you get stopped by the traffic police then smile,a smile goes a long way for fixing things or diffusing any kind of problem,if you need a favour from someone then first smile at that person and happily greet them.Never show that you are angry,this will get you nowhere and is counterproductive.
e) Public displays of affection : things like kissing or hugging are frowned upon.It's best to show some restraint.
f) Respect for the monarchy : the Thai Monarchy is highly revered and is protected by strict laws.It is best to avoid talking to Thai people about this subject as it might lead to misunderstandings and in the worst case legal problems for you.
8.Can I find vegetarian or vegan food options in Phuket?
Over the past years there has been a steady increase in the number of places catering to vegetarians and vegans.There are now vegetarian and vegan restaurants all over the island.Yaowarat road in Phuket Town is a hotspot,some of the vegetarian/vegan restaurants there have over 30 vegetarian dishes to choose from.
Local Market
At the famous sunday market in the Phuket old town area there is a lot of vegan and vegetarian street food,there is also a lot of fresh fruit.
Vegetarian cooking class Phuket – a great way to get to know about Phuket's rich food heritage and learn how to make some delicious dishes.Click here to view a school that is specialised in vegan and vegetarian dishes. 
Some Recommended Thai Vegetarian/Vegan Dishes : 
Pad tau-hu priew wan – sweet and sour fried tofu

Tom Yam Hed – sour and spicy mushroom soup

Pad Thai – Thai fried noodles

Pad Pak Ruam – mixed fried vegetables such as baby corn,carrot and snow peas

Pad Kra Pao Tao-Hu – yellow tofu fried basil and chilli

Spring Rolls

Tom Ka – galangal coconut soup

Som Tam – green papaya salad

Tofu Salad

Gaeng Keow Wan – green curry vegetables

Gaeng Keow Wan – red curry vegetables
The Vegetarian Festival
There is even a vegetarian festival in Phuket,when the streets are lined with stalls selling only vegetarian Thai dishes.Yellow signs and flags outside restaurants signal them to be vegetarian.This festival takes place near the end of September and the beginning of October.
9.What activities and tours are available in Phuket?
Over the years Phuket has become more developed but the plus side to this is that there are now many things to do on the island.Here are some of the most popular activities:
a) Island Hopping : Phuket is very lucky to be in the proximity of some beautiful islands.There are the world famous Phi Phi islands,James Bond island, the Similan islands and many more.If you want to go to more quiet laid back islands then Koh Yao Yai and Ko Yao Noi are the places to go to.
b) Snorkeling and Diving : there are many guided tours that take you snorkelling and diving at one of the many coral reefs that surround Phuket.Most beaches have reefs on their headlands where you can snorkel by yourself.There are also live aboards which will take you to special remote dive sites for days at a time.
c) Elephant Sanctuaries : Phuket has several elephant sanctuaries where these gentle giants are cared for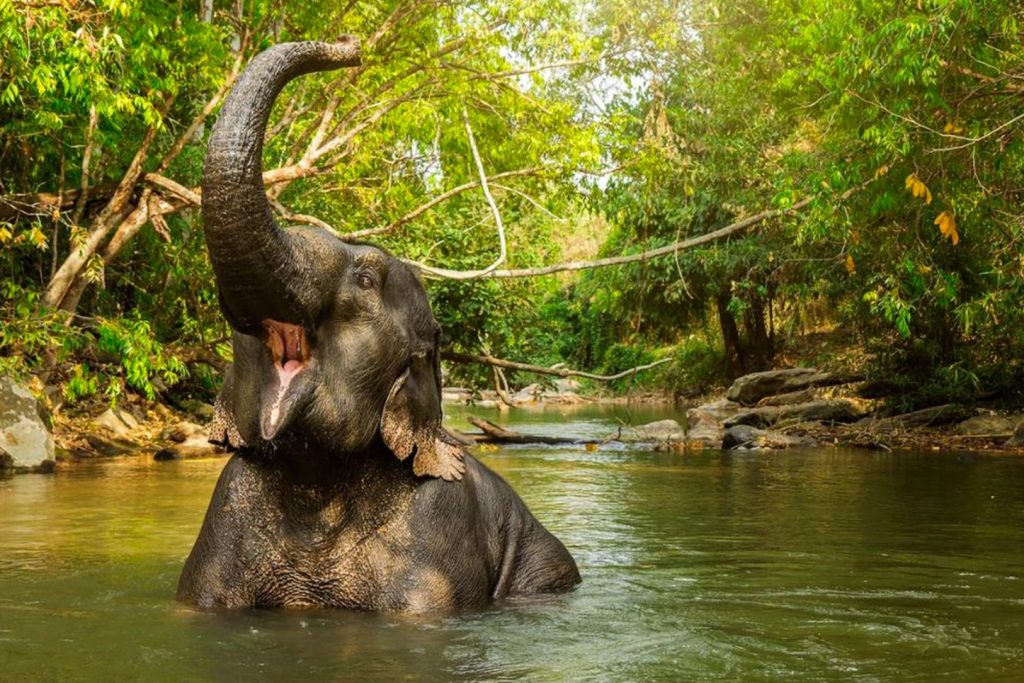 in an ethical way.Here you can observe and learn about elephants and at the same time help in their conservation and wellbeing.
d) The Phuket Old Town : a very nice historical area of Phuket town where you can take a walking tour to view it's colourful streets, Sino Portuguese architecture,historical sites,a museum,art galleries and sample local food delicacies along the way.On Sundays the area is turned into a walking street and they have the famous sunday market with lots of delicious street food.
e)Thai Cooking Classes : Thai cooking lessons are not only a lot of fun but you also get to take home a delicious and nutritious lifelong souvenir which you can share with your family and friends. Experienced chefs will guide you through every step of the way to making delicious Thai traditional dishes.
f) Phang Nga Bay Tour : On the mainland close to Phuket is the famous Phang Nga Bay,here very tall limestone formations rise out of emerald green waters.It was made famous by the James Bond movie "the man with the golden gun".There are boat tours and kayaking tours,most tours include a visit to a village which sits on stilts above the water.The kayaking tours take you into spectacular caves with hidden lagoons.
g)Watersports : lots of watersports are available in Phuket,there is surfing in the low season(from May to October),stand up paddle surfing,windsurfing,wingsurfing,kitesurfing, e foiling,jet skiing,sailing,fishing,wakeboarding etc.
h)Spa and Wellness Retreats : Phuket is known for it's many spa and wellness centers offering traditional Thai massages,yoga classes,detox programs and meditation sessions.
The above are just a few examples of the activities on offer,Phuket has something for just about everybody.
10.Are there any health and safety concerns in Phuket?
Crime wise Thailand is generally a safe place to visit,I find it amazing every time how little stealing occurs here,even during the covid lockdown when people were literally going hungry,there was very little crime in Phuket. Concerning health and other safety issues, Phuket like any destination has it's own set of considerations.Here are some important safety and health issues to be aware of : 
a)Water Safety : be aware that during the low season,(from May to October),the sea on the west coast is often very rough with big waves and strong rip currents.For the rest of the year the sea is very calm.Please note that the sea only ever gets rough on the west coast, the east coast and Phanga bay are sheltered and are calm.
b)Diseases from Mosquitoes : in the rainy season beware of the daytime tiger mosquito which can give you dengue fever,these mosquitoes are usually found in areas with a lot of vegetation,they like the shady areas under the vegetation,if you put on some mosquito spray then you will be fine.There is no malaria in Phuket.
c)Rabies : it's better not to touch any of the dogs or cats that you see on the streets no matter how cuddly they look,one lick on a very small wound is enough to give you rabies,the disease is very uncommon in Phuket but it still exists in Thailand.
d)Sun and Heat : watch out for heat stroke,keep your body hydrated and it's better not to exercise in the middle of the day or early afternoon.
e)Traffic and Road Safety : Phuket's roads are dangerous.If you are in a car then you are pretty safe,but the danger increases by a lot when driving a motorbike.If you have never driven a motorbike before then don't try to learn how to do it in Phuket.
f)Scams : a busy tourist destination like Phuket attracts some unsavoury types,both Thai and foreign.Use your common sense,when something is too good to be true then watch out.
g)Travel Insurance : it is advisable to have a comprehensive insurance.If you are going to be driving a motorbike make sure that your insurance covers that,many insurances don't.
A few tips – when you are at a bar pay for each drink right away,if you pay for all you've had at the end,then you might find that mysteriously more drinks have appeared on your bill.  – before getting into a taxi negotiate the price.
11.Can I rent a vehicle in Phuket? Yes you can.
Rental Options: You can rent cars,pick up trucks,motorcycles and scooters.You can rent cars from international rental companies as well as local operators.There are many motorcycle and scooter rental places all over the island.
Driver's license: Only an international driver's license is accepted.
12.I don't want to drive or take expensive taxis,how can I get around in Phuket? The Bus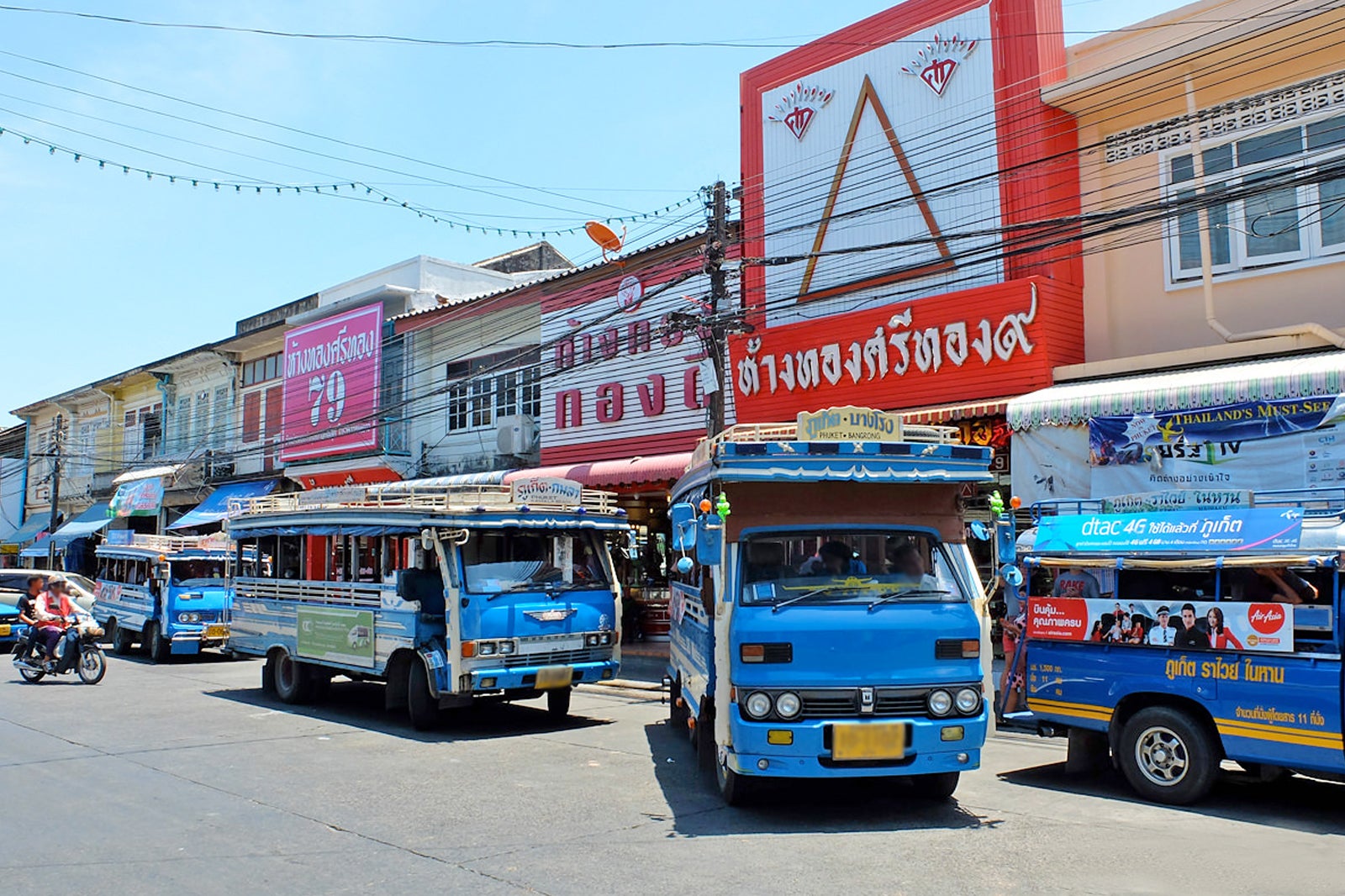 a)The Blue Bus: These are converted trucks which have a wooden structure at the back where the passengers sit,they are blue in colour and are called songtaews in Thai.
 Departure Points: These buses go from most localities in Phuket ie from Cape Panwa,Rawai,Kata Noi,Kata,Karon,Patong,Kamala,Surin,Bangtao and Nai Yang.
 Destination: The destination is the fresh market on Ranong road in Phuket town.If you wish to go from Phuket town to one of the localities (kata,karon etc) then  the departure point for all buses is the fresh market at Ranong road.                                                                                                                        
You can get off the bus anywhere along it's route by pressing the buzzer.  
-Where to catch these buses? There are no designated bus stops,you can flag one down anywhere along it's Route.
-How often do they go?
They should go every 30 minutes but this can vary a lot,bus drivers will wait until the bus is full before they go.  
-Price
It's between 30 and 50 baht 
 b)The Smart Bus
A very popular bus in Phuket.It is a comfortable and affordable way to go from beach to  Beach,visitors love it.
Route
This bus travels from the bottom of the island,starting at rawai beach, going up the west coast all the way to the airport whilst passing all the west coast beaches.It stops at 15 stations along the way : Rawai beach,Kata beach,Karon beach,Patong beach,Kamala beach,Surin beach and Bang Tao beach.
 Price
    100 baht for any destination.
     A 3 day pass – 499 baht
     A 10 day pass – 1000 baht
     A 15 day pass – 1500 baht
  The bus is free for kids under 7 years old.
You can pay cash on the bus ,use a QR code or buy a refillable smart card.
c) The Airport Bus
An easy way to travel between the airport and Phuket Town.
13.I would very much like to try a lot of different food in Thailand,including the street food at local markets,is it safe to eat this type of food? 
Street food is generally safe to eat in Thailand.You can take some precautions by For  example looking for stalls that have a high turnover of food and make sure  The food is cooked well and served hot.Avoid raw or undercooked meat,seafood and eggs.Do not drink the tap water.If you do pick up a bug then the pharmacies have super effective medicine for this  
14.Are there any day trips or nearby islands worth visiting from Phuket?
a) Koh Yao Yai and Koh Yao Noi : located between Phuket and Krabi,these 2 sister islands are like Phuket was 20 years ago,cycling around the islands is highly recommended.You can reach the islands via ferry or speed boat.
b) Coral island : close to Phuket and therefore busy,it has beautiful beaches and Coral reefs.
c) Racha islands : there is Racha yai(big racha island), and there is Racha noi(small Racha island).Racha yai is about 12 kilometers away and Racha noi is about 25 kilometers offshore.Both have beautiful coral reefs for snorkelling and diving.Racha noi is good for fishing too.
d) Phi Phi islands : once one of the most beautiful islands in the world,it has become quite crowded.There are still many nice things to see though.
e) James Bond Island : very tall limestone formations rise out of the water.Besides boat trips you can also go on one of the very popular canoeing tours and go inside caves and hidden lagoons.